Massive bushfires in the Arctic and the Amazon caused global fear and consternation last year. Fires in these fire-intolerant regions are symptomatic of accelerating climate change, and are indicative of the potential for self-reinforcing run-away effects.
Now mid-way through 2020's Northern summer, and with the dry season in the Amazon just getting started, bushfires in both regions are already spreading faster than at the same time in 2019.
In Siberia, June's forest fires released a record amount of greenhouse gases for the region. The Siberian town of Verkhoyansk recorded a maximum temperature of 38 degrees celsius, believed to be a temperature record inside the Arctic Circle.
This year's fires have also reached 73 degrees north, the northernmost forest fires ever detected. (For reference, the northernmost point of mainland Norway is 71 degrees north.) The fires are burning in areas where the soil was formerly frozen solid.
Meanwhile in the Amazon, there have been some 20 percent more fires than during the same period last year. In June, Brazil's National Institute for Space Research recorded 2,248 fires using satellite imagery, as opposed to 1,880 fires in June 2019.
The dry season in the Amazon begins in June, and wildfires tend to worsen until the first rains arrive.
Climate scientists don't need to say much these days. "It is in line with predictions of global warming going back decades now," Prof. Siegert of Imperial College London told the BBC in regard to the latest records "We don't really need further confirmation of this problem but here it is anyway."
However, the problem is as much political as it is technical. For example, from when leftist Brazilian president Lula da Silva began his first term in 2003 to when conservatives regained power in 2016, the rate of annual deforestation fell by nearly 70 percent. Chico Mendes' former colleague, Marina Silvina, was made Minister for the Environment.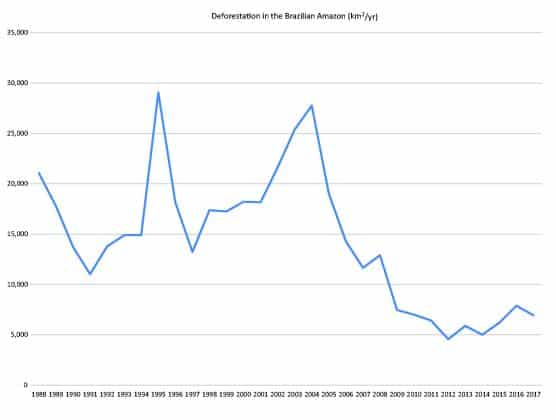 In the four years since, deforestation is again increasing and has since surpassed its 2008 level. Brazil's current president has slashed funding for the Environment Ministry and illegal logging enforcement.
It goes to show that the solutions are there. The issue is making sure we take them.